The interactive dog toys listed below represent the best toys for smaller dogs who may not be able to get out and run around the great outdoors for their daily exercise. Taking long walks with your dog is still and always will be the absolute best way to keep in both of you in shape and establish a strong bond with each other. It is also an excellent way to meet other people and dogs to increase your pup's sociability
The Classic Kong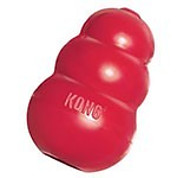 The Kong is a long-time favorite because of its ability to stand up to the strongest of chewers. The hard red rubber is recognized all over the world as a durable, safe, and fun toy for your dog. The Classic Kong is designed to bounce unpredictably so it increases your dog's need to chase and catch prey. Having your dog chew on a Kong is much better than chewing on anything else that dogs can get into such as rocks! I knew a dog who died because he kept eating rocks. It would have been so much better if he had a Kong.
Kong allows you to further tantalize your dog by being able to hide tasty treats inside it for longer play sessions. You can stuff it with kibble, peanut butter, or anything else that your dog might enjoy and that would take some time to dislodge from the Kong. The longer it takes your dog to dislodge it, the better it is for you.
The Kong is made in the USA and comes in one of five sizes from XS to XXL. Get the Kong for your hearty chewer!
Jolly Pets Tug n Toss Ball
The Jolly Pets Tug n Toss Ball is good for energetic pups who want to retrieve and fetch. The handle makes the ball easy to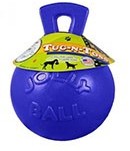 toss and easy to retrieve. The ball does not need to be inflated so you can also use it for water play as well. Personally, my guys would never go near the water! They would think it too much like a bath! They prefer to see it bounce around the field. This is an excellent way for you to run off a lot of energy with a dog who is like Ricochet Rabbit.
The Tug n Toss Ball is made in the USA and comes in three sizes from 6 inches in diameter to 10 inches in diameter. Get the Jolly Pets Tug n Toss Ball for your runner
Starmark Treat Dispensing Bob-a-Lot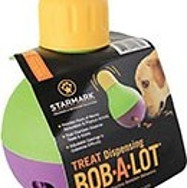 The Starmark Bob-a-Lot is a treat dispensing toy that engages your dog by having her nudge, paw and push the toy in order to get the treat. The base of the toy is weighted for the bobbing effect. This toy was designed by the behavioral specialists at Starmark Pet Products to deal with dogs who need mental stimulation and who like to chew on inappropriate things when bored. The size of the treat opening can be adjusted to increase the difficulty for your dog in retrieving the treats. Although designed for mental stimulation, the Bob-a-Lot is perfect for those dogs who wolf down (pun intended) their food too quickly. This is not a good as eating too fast can result in gagging, choking, vomiting, or canine bloat. The Bob-a-Lot forces the dog to slow down in order to eat.
The Bob-a-Lot has two chambers for treats and is easily cleaned. It comes in two sizes. Get the Starmark Treat Dispensing Bob-a-Lot for your bored pup.
Zippy Paws Holiday Zippy Burrow Hot Cocoa Hide and Seek Puzzle
The Zippy Paws Hide and Seek Puzzles are plush toys consisting of one burrow (or in this case a cup of hot chocolate) and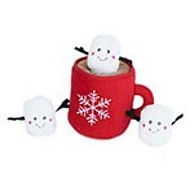 three critters – here they are marshmallows. Each of the marshmallows has a squeaky in it. The marshmallows are stuffed into the cup of cocoa and your dog will have hours of fun pulling them out and squeaking them.
This is not a good toy for a destructive chewer, but if you have a dog who is good to his toys, like my older chihuahua, then this is a good choice. I've selected the hot chocolate version to illustrate here, but there are many versions of the same theme. They are all fun. For Christmas there is also a reindeer burrow with three reindeer, and a gingerbread house with three gingerbread men. For all year fun, there is three monkeys in a banana, three chicken legs in a bucket, a hedgehog den, three bunnies in a carrot burrow, a popcorn bucket, chipmunks hiding in a log, and three doughnuts in a cup of coffee. These are more fun for the owner than the dog. Get your Zippy Paws Hot Cocoa Hide and Seek Puzzle for your gentle player
Make Your Own Interactive Dog Toy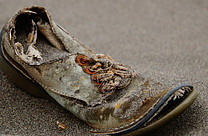 You can make your own interactive dog toy by using your old shoe and hiding treats in the toe. You should remove the shoelaces first and ensure the shoe is not made of anything that might harm your dog. Not only will this give you an inexpensive way to amuse your dog, it will give your dog something that smells of you to keep around all day.
If you don't have a shoe, try an old sweatshirt, or sweat pants or something else that you can tie knots in, but hide treats inside the knots. This will also give your dog something of yours to play with.
The downside of these two toys is the possibility that you dog might think that this is free license to chew up anything else that is yours so you will definitely have to keep your shoes and clothes safely picked up and stored in their rightful closets and dressers so that your dog doesn't destroy your wardrobe.
A Quick Word of Caution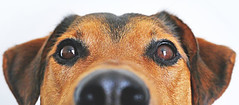 With any toy, let your dog play with it under supervision. Any dog can destroy any toy. You should monitor your dog's toys regularly to ensure that stuffing remains stuffed and pieces are not pulled off. These can result in choking hazards and you will need to discard these and the toy as well. Toys are supposed to be fun, not tragic. Keep an eye out!
What is Your Favorite Interactive Dog Toy?
As I have stated before, the best interactive dog toy is always you. Still this is a list of some good toys that you can consider. If your favorite toy did not make the list, that's fine, too. This list represents my opinion only. Please add your favorite interactive toys in the comments below.