Hi! Obi-Wan here! I want to tell you why it is important for a dog to find just the right sunbeam. Naps are just so much better when you and the world around you are at just the right temperature.
Sun Matters
Everyone thinks that just because we dogs have a fur coat that we don't need any additional warmth. Nothing could be further from the truth. I am a smooth-coated, short-haired chihuahua living in the northeastern United States, the part they call New England. It has been plenty cold here, and my coat is just not enough, especially when I have to go out and do my business. I hate wearing the coats and sweaters my humans make me wear on these days. My female human thinks my aim is bad because I always hit the front sleeves of the coat! I really do that so that they will take it off of me when we get back inside the house.
Since I run around the house naked, I still get a little cold so I try to get to the sunbeam before my brother does. He's older and bigger and always gets the best spot. He doesn't like to share body heat either. That sunbeam is my only chance at being warm while I nap.
The Ideal Sunbeam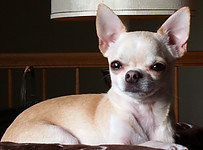 The best sunbeams are bright and warm. You want them to last awhile so that you can sleep. Unfortunately, you have to put up with numerous obstacles inside your house such as chairs, table legs, and walls.
My favorite spot is on top of the sofa in the afternoon when the sun comes through the big window. There are no obstacles and you have the added benefit of a soft place to nap on top of. The only drawback is the cloudy day. And my brother. Did I mention that he's bigger and always takes the best sunbeam spot?
Managing Obstacles
I've mentioned that there are several obstacles to enjoying a good sunbeam. I will offer some suggestions for dealing with them:
Chairs: Chairs are frequently in the way of the sunbeam that appears in the dining room in the morning. If you are big enough, you can push the chair out of your sunbeam.
Tables: Tables are too big to push out-of-the-way so you'll need to wrap yourself around the table leg and enjoy your sunbeam as best as you can. It's not optimal, but what else can you do.
Gate: My humans put up a gate to keep my brother and me out of the dining room and away from the morning sunbeam. It's very tall — at least three chihuahuas high. I'm still working on how to surmount it. I will update this post when I do.
Sunbeam Moving: I don't know if you've noticed, but sunbeams move all the time. You are no sooner laying in the sun enjoying a good snooze when all of a sudden your feet are cold because they are no longer in the sunbeam. I don't know why sunbeams move, but they like the dining room in the morning and the living room in the afternoon. I am open to any and all suggestions as to how to keep the sunbeam in one place.
Brother: My brother is also a chihuahua, but he's twice my size. He's one of the old-style deer head chihuahuas (like Taco Bell used to use). I am one of the new style apple head chihuahuas. He's older than me and has a higher order in the pack so I have to defer to him when he wants the sunbeam. I'm a good pack member, after all. When he crosses the rainbow bridge, I'll get the sunbeam. In the meantime, just do what you are supposed to do.
Sunbeam Alternatives
Well, there is no real alternative to a sunbeam, is there? If you want to stay warm, you can try a few of these tactics.
Keep an eye on the sunbeam so that you can be ready for it moving. This will require you to think ahead, which is very difficult for a dog who lives in the moment.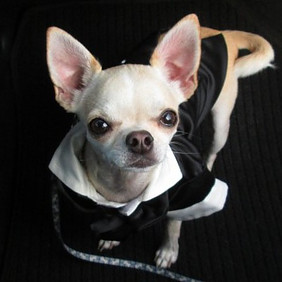 If you like that sort of thing, you can wear the silly clothes that our humans dress us in. My brother loves to wear clothes. He thinks that he should be on the cover of Dogs Quarterly because he looks so good. I think he looks silly, and I look even sillier which is why I always aim for my sleeves in the morning.
Cuddling with your human is a really good option. Humans exist to provide dogs with food, water, and shelter. I like to perch on my human's shoulder while she sits on the sofa. My brother sits next to her leg so that he can soak up the heat there. We both like to sleep next to our human's back while she is sleeping because of the heat generation. It's really good if we have the covers on top of us as well. This is for nighttime though. There are no sunbeams at night.
Because there are no sunbeams at night, some dogs try to sing to the moon to get the sunbeam to come back, but this have never seemed to work. I bark at the postman and he returns every day. I have not tried singing to the moon because I think that I am a good singer. Perhaps if I sing the song of my people, the sunbeam will return!
Conclusion
Sunbeams have always been an important part of dog warmth over the centuries. Living with humans does not change this. The difficulties of sunbeam management don't have to keep you from being warm.
Thank you for reading my article. Please keep the conversation going below.