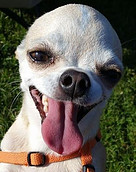 I am a four pound Chihuahua who is big on advice. I really just know everything there is to know about dogs because as you can see by my photo, I am one. As the cutest dog you will see, I am the best source for all of your ideas for dog toys and treats. Everyone knows that small dogs are better and smarter than large dogs.
My human has already given you some ideas for good dog toys, but I want to give you my special ideas for the perfect Christmas gifts for your puppy! I'm very picky and will only give you those gift ideas that I think are best.
Tugging Toys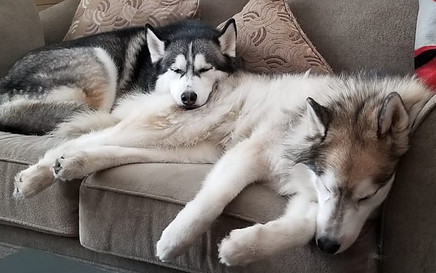 Whether you are a big dog, like me, or some other dog like my cousins who are Siberian Huskies, you need exercise to stay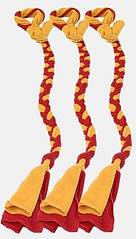 in shape and remain healthy. I also like to chew and throw toys. My cousins do as well. You can't go wrong with giving a Tether Tug. There are different sizes and types, but I prefer the Braided Fleece. It's just right for my small teeth and is good for an indoor dog like me.
It comes in a handy three-pack and is designed for chewers like me! I love the fact that my brother (another Chihuahua) and I can use these to amuse ourselves. I can also share it with Molly down the street!
If you have a dog who is a chewer, this is a great gift for Christmas or anytime.
Plush Toys
ZippyPaws makes a fun Christmas donut plush toy with the squeaker inside. I love squeakers and I love to see how fast I can kill that squeaker. But each donut has two squeakers!! How cool is that?!
This toy is a four-pack of Christmas donuts! So if I can kill the squeaker, there's another one ready to go! Or just throw all of them at me, and I will show you how fast I can. Each donut is 7 inches by 2 inches. My brother and I can enjoy these for hours and hours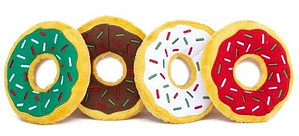 Chewing Toys
Well, all toys for dogs involve some amount of chewing. Let's face it, all dogs want is belly rubs and something to chew on. If there's food in it, that's all the better!

You might have a dog that needs to chew on something and you would prefer that it not be your shoes! That's where the Nylabone Dinosaur comes in. It has nibs to clean your dog's teeth and satisfy the most powerful chewer. For a dog my size, noshing on a dinosaur is a real plus.
There are three different dinosaur types: Brontosaurus ( I think that this is the one that the Flintstones would eat at the Drive-In); Stegosaurus (a really armored hide would make this one less palatable to me); and the T-Rex (that's the funny one with tiny useless arms!). Wait, what do you mean that they are not actual size. I'm a chihuahua and I'm bigger than any dinosaur!
Food is Always Good
Toys to chew on – and for me, that's all toys – are great, but what I really like is something to eat! I'm a small dog that is 25 percent ears and 50 percent stomach!! I want something good to eat!
Dog food might not seem like a good gift to you, but I think it is great! I like a good premium dry kibble that is formulated with a lot of meat and not much cereal. I like vegetables also, but I'm a carnivore. I love wet dog food, but it should be mixed with my dry kibble so that it doesn't affect my poops! You should read the nutrition labels of all of your dog foods to make sure that you are feeding your dog the best possible food.
Treats are good also, but you should not give a dog too many treats. I personally don't see anything wrong as it is impossible to spoil me since I am already perfection. Too many dog treats can make you poop funny as well.
Be careful giving dogs people food. I know it looks good, but there are some things that can really hurt your dog – like chocolate, or anything that contains xylitol. My brother grabbed a gummy vitamin that contained xylitol and our mom had to call the vet! Still, we can have a small amount of meat, potatoes, and vegetables. Sugar is not good though. Dogs should have a limit on the amount of sugar we eat – just like people!
Merry Christmas!
Don't forget to share with the dogs and other animals at your local shelter. They need help all year around, both your time and your gifts!
I hope that you and your dogs (you should always have more than one) have a wonderful holiday. Don't let the stress of holiday preparations get to you. Just find a quiet corner and pet your dog. Your dog will like it and your blood pressure will go down!
Please let me know how I did on my first post! Or we can start a conversation.